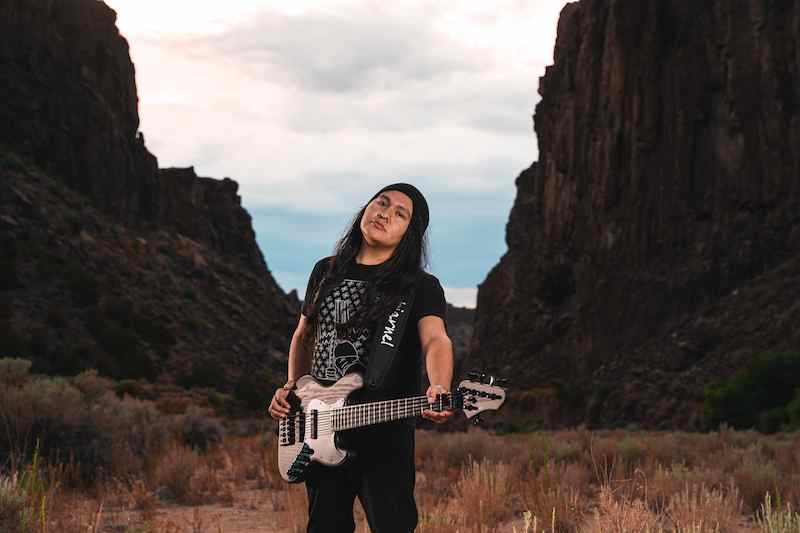 Rylan Kabotie Biarnel prassi neroneronero
Rylan Kabotie Biarnel prassi neroneronero
Rylan Kabotie plays a Biarnel Prassi NeroNeroNero.
Rylan Kabotie is a Native American bassist/singer/songwriter based out of the state of New Mexico in the USA. His tribal heritage includes Santa Clara Pueblo (Tewa) as well as the Hopi, and Jicarilla Apache Nations. 
Through Rylan's current musical project, Indigenous reggae, rock band Innastate he has toured internationally, released a studio EP, and full length album. Rylan seeks to bring a new paradigm to what the world views as Native American music, and modern Native Americans as a whole. In addition Rylan plays bass and sings backup with various other projects.
Influenced now by the likes of Deftones, Kings Of Leon, and Steel Pulse, Rylan has had the opportunity to open for the likes of bands such as Black Uhuru, The Wailers, Tribal Seeds, and The Meditations to name a few. Seeking to create a new voice formed from his indigenous heritage and personal experiences, while also being a good representative of his generation, and people. Rylan continues to grow as a singer, writer and musician and has no intention of letting up on his ambitions any time soon.
Biarnel Prassi 5c NeroNeroNero

Emiliano

2020-04-05T13:34:03+02:00
Rylan Kabotie Biarnel prassi neroneronero